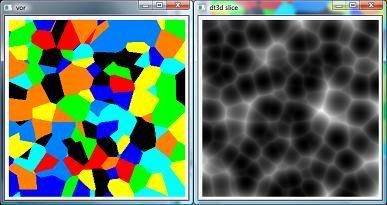 I needed code for the 2D and 3D distance transform (for my
dendrogen toolkit
), and the only thing I could find used ITK -- lovely toolkit, but that's a big dependency I didn't want to drag in. I looked up the algorithm, and it turns out it's dead simple.
Curious thing about the distance transform is that approximate algorithms have been around for a while, but so far as I can tell, an efficient (linear in the number of pixels) and exact algorithm was only devised in 2004, by Messrs. Felzenszwalb & Huttenlocher. Their solution is also beautifully simple. The
paper
contains pseudocode which can be directly translated into C.
The above pic is a slice through a 3d distance transform of a set of points, and the corresponding 3d voronoi diagram.
I added the ability to optionally generate voronoi regions. The
code
mostly tests with points, but it will work with arbitrary regions as well. It's a VC Express project, but the code is all portable. The test code uses OpenCV just to display results, but the distance transform code itself is in a single header and has no dependencies beyond the C++ standard library.
If you look at the code, you'll notice an OpenMP directive, which sped things up by about 25% on my slow-but-dual-core laptop. The tiny amount I know about OpenMP is from a Doctor Dobb's article I read years ago, so I don't know if I'm using it correctly, except to say that the results appear correct, and it did indeed make it go faster.