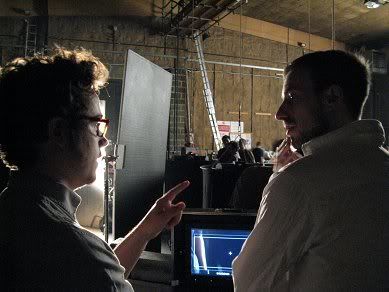 I'm in London working on a music video using one of my effects (the
wobbly one
). We shot it yesterday, and I was able to run a real-time preview on the set. It was my first time on a set of any kind, and my primary ambition was to not bump into anything expensive. I also became acquainted with the the phenomenon of "runners" -- they have people who, when you need something, will
get it for you
! Brilliant.
The video is being directed by the extemely decent and prodigiously talented Bugsy Steel (left, above) and Ross Cooper (right), who together form
oneinthree.tv
, and features a great young R&B artist named Leon Jean-Marie, who apart from having great musical chops and dashing good looks, turns out to be able to hold up his end in a conversation about string theory. I'll post some pics later.
I feel quite the hick amidst all of these stylish, prosperous and indefatigably witty Londoners. It's a long way from the lunch-bucket precincts of my home town in Canada.
(So Kert, you were right! It was indeed a music video waiting to happen!)
Update:
If you're arriving from promonews, the effect we used is demoed here:
The wobbly effect!
And if you liked that, you'll probably like these as well:
the flowy-fluid effect!
The wavy effect!
The freaky time-shifting effect!